Interviews with
HIROSHIMA memory keepers
Succeed to history


Vol.

2
2015.7.2 up
Conveying Our Thoughts
Yasukazu Narahara
Hiroshima Peace Volunteer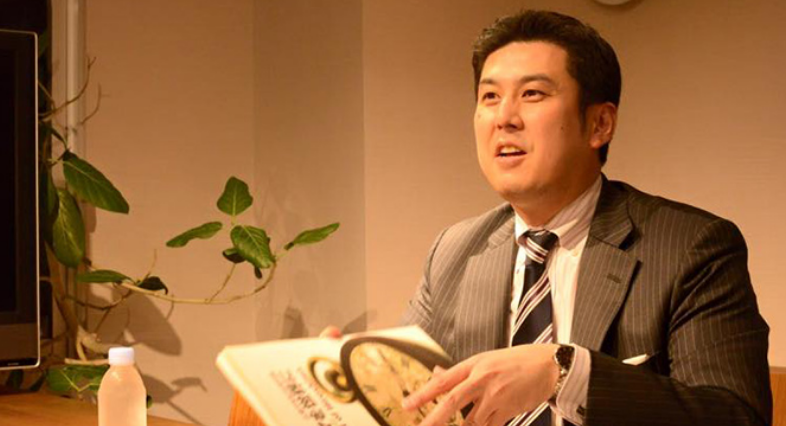 There are people who have committed themselves to passing down the A-bomb experiences to succeeding generations. What do they think of and try to share?
Here is Mr. Yasukazu Narahara, who lives in Tokyo. While he is working for a department store there, he is also giving tours of the Memorial Museum and the Peace Memorial Park as a Hiroshima Peace Volunteer Guide, making the round trip between Tokyo and Hiroshima once a month.
We asked him about his activities in Hiroshima.
What made him start peace activities?
Yes, I am. I was born and grew up in Tokyo.

Yes, I am. I was born and grew up in Tokyo.
What prompted you to start to be concerned about the A-bombing on Hiroshima?

My first visit to Hiroshima of 20 years ago did. I had an opportunity to listen to a survivor's story. At the end of his story, he said,
"I have a reason to tell my A-bomb experience to you. I want you to pass our experiences down to future generations as much as possible."
I was so moved to know that the A-bomb survivors were so determined to convey their experiences, even though they couldn't remember their experiences without feeling pain or falling ill. So, I promised him, saying, "All right. I will do that to the best of my ability." I was a college student then.That was a one-to-one promise between him and me, but I was aware that there were a lot of survivors behind him, which meant that I promised those survivors, too. So I determined to keep my word, starting to join various activities. That was my starting point.
Was it during your private trip that you heard the survivor's story?

No, it wasn't.It was during the program called "PEACE NOW" sponsored by the National Federation of University Co-operative Associations (NFUCA). NFUCA holds "PEACE NOW" every year, sending co-op student members from each member university to Hiroshima, Nagasaki, Okinawa and Nemuro, as part of its peace activities. The students learn various things in each place. When I participated in a "PEACE NOW" program for the first time, its destination was Hiroshima.
Have you been interested in social issues such as war and peace since you were young?

Not very much. There were no programs about peace at my junior and senior high schools. I remember that my Modern History teacher skipped the units of wartime and postwar periods in the textbook. I quite casually took part in the program in university, thinking that I would take that opportunity to visit Hiroshima.
How did the survivor's story make a difference in your mind?

It really opened my eyes. I was shocked.
Until then, I had understood that thanks to nuclear deterrence and Japan's nuclear umbrella, the world order was well maintained.
However, I learned from the survivor that such a tragedy in Hiroshima and Nagasaki had been caused by nuclear weapons. The A-bomb survivors are the victims of those weapons. Hearing the survivor, I had to change my old understanding.
What kind of action did you take right after you promised to pass A-bomb survivors' experiences down to future generations?

I was a college student then, so I started talking to fellow-students at my college. At the university festival, I made large paper display panels to show what I had learned in Hiroshima and printed some booklets to hand out to participants who visited my exhibit. Also, I exchanged opinions with those participants.
After I got a job at the department store in Tokyo, I could hardly find the atmosphere at my workplace to share with colleagues what I had learned, although I wanted to. Instead, I learned more by myself. I spent some time of distress. In the meantime, I became a union official and met many people. To my delight, someone came up with a plan to have a seminar in Hiroshima, and opportunities for me to talk about the A-bombing to people increased.
About the activities of Hiroshima Peace Volunteers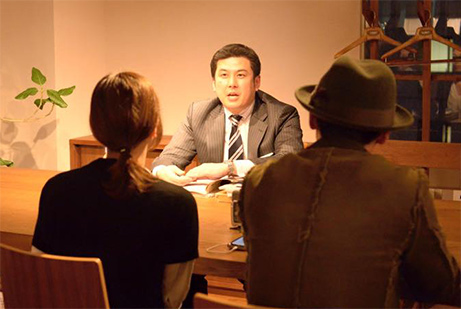 You have been giving guided tours as a Peace Volunteer. What do Peace Volunteers do specifically?
The Peace Volunteers are registered volunteer guides administered by the Hiroshima Peace Culture Foundation (a public interest incorporated foundation). Their job is to give visitors guided tours of the Hiroshima Peace Memorial Museum and Hiroshima Peace Memorial Park.
Our guiding consists of two styles. One is to give an explanation staying at a definite place in the west building of the museum. The east building is now closed due to renovation work and is to be opened in spring, 2016. Standing at various points, we speak to visitors and give them an explanation about the exhibit.
The other is to give visitors a guided tour. We show them around the museum and the park, giving explanations.
More than 200 Peace Volunteers are registered now. There are groups of 20 to 30 volunteers signed up for each weekday, and the volunteers join their available day's group to guide.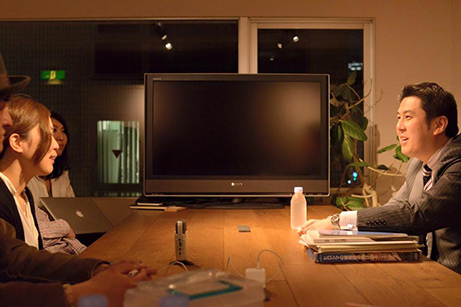 Is there any qualification examination to be a Peace Volunteer?
No, there isn't. First, the applicant's documents will be just briefly screened. Then we have about a six-month training course. Starting with learning the facts of the A-bombing, we follow our seniors'guided tours, listen to survivors, have lectures by researchers of A-bomb related issues and peace activists, and also learn how to talk.
After the first training, we have another three-month course of on-site training, in which we practice explaining skills in the museum. Those training courses take almost a year before we get our certificates.
How long have you guided as a Peace Volunteer?
I started guiding in 2009. So, it's been six years. One guide has the longest experience of 16 years.
What is the maximum number of people whom you can guide?
Fifteen is the largest number to be within hearing range.
Are all the Peace Volunteers Japanese?
Almost all of us are Japanese. There are some who can guide in English, in Chinese, or in sign language.There is one Chinese guide. We are ready not only for people from different countries but also for handicapped people.
What are most frequently asked questions when you guide visitors?
Since March 11, 2011 (the Fukushima nuclear disaster), many people ask what the difference between Hiroshima and Fukushima was. Until then, many people asked, "Doesn't Hiroshima have any problems with residual radiation?"
His goals and challenges
I suppose, you have met many challenges doing your peace activities. What is the challenge you are now facing?
The biggest one is to pass down the A-bomb experience to future generations. When it comes to the facts of the A-bombing, you can learn them at the museum and from books. Also on the museum's website, you can view materials preserved there and feel their messages.
However, it is really difficult for me to convey what the survivors have in their hearts.
Nobody but the survivors themselves can do it. The speaker's attitude depends on the listener's attitude, doesn't it? If your listener is good, you will talk leaning forward. Images and pictures are one-way communication and impossible to convey their full messages successfully.
A-bomb survivors' average age is becoming close to 80. Which means the number of survivors will be reduced to zero in the next one or two decades.
This is absolutely certain.Then, we, the younger generation, will have to take the role of passing down the survivors'thoughts and messages to succeeding generations. I am very sure that it will by no means be easy.
I agree with you. Then, do you have any plans as a goal for the future peace activities?
It may sound big, but my goal is to set up a Tokyo branch of the Hiroshima Peace Memorial Museum.
Because Hiroshima is 800 km away from Tokyo, we cannot readily visit it. No one has the opportunity to come to Hiroshima except those who are determined to visit, who are given the opportunity by fate, or who come on business trips.
If there is such a branch museum in Tokyo, people in the Kanto area will be able to visit it more easily and learn the facts there. People from other countries won't need to come to Hiroshima. They will be able to visit it during their sightseeing in Tokyo after arriving at Narita Airport. It can be another base to convey our thoughts. I wish I could establish it someday.
Messages for the generations who have no war experiences

What do you think is necessary for the generations who have no war experiences to pass down the survivors' thoughts and memories?
I think "to relive the war" is the key, because we can not and must not experience war again. We should imagine and visualize what happened during war as much as possible. I recommend that you imagine what your life would have been like if you had been in Hiroshima.
I don't think peace is secured by someone else. We have to build it by ourselves. When we say the phrase, "building peace," we have to keep the determination in mind that we should build a society where everyone can feel happy. I always think that the first step toward a peaceful society is to comply with easy, obvious things, such as "Stop bullying,""Be harmonious," and "Respect your parents."
Finally, would you give a message to those who are encouraged by this interview and wondering if there is anything they can do.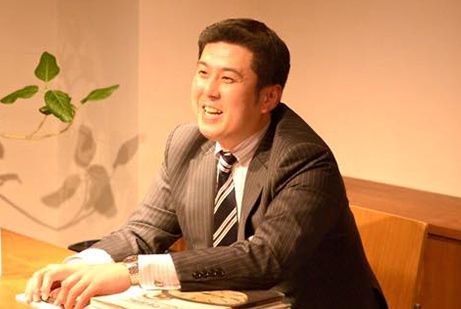 Seeing is believing.
First, come to Hiroshima and visit the museum, for pleasure or with seriousness, whatever the reason may be. Come and look at the facts.
That is the most important thing. When you find something that moves your heart among the facts, please try to share your thought with people around you.
Interviewed on June 2015.
About
"Interviews with HIROSHIMA memory keepers" is a part of project that Hiroshima「」– 3rd Generation Exhibition: Succeeding to History
We have recorded interviews with A-bomb survivors, A-bomb Legacy Successors, and peace volunteers since 2015.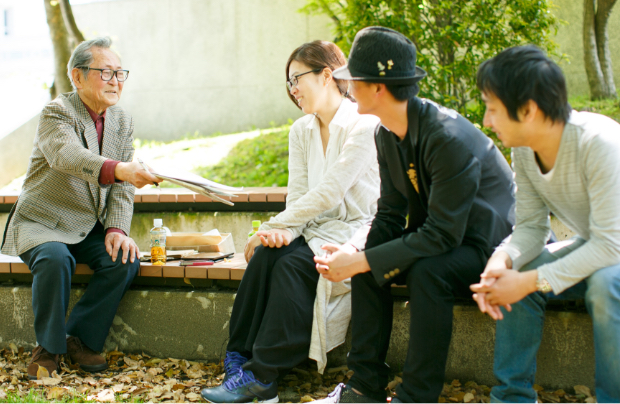 What are Hiroshima memory keepers feeling now, and what are they trying to pass on?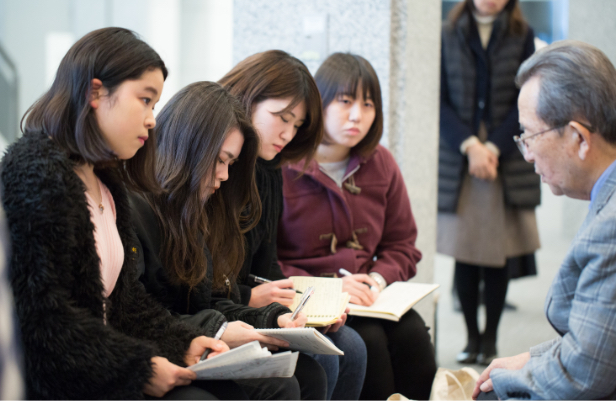 What can we learn from the bombing of Hiroshima? What messages can we convey to the next generation? Please share your ideas.