Interviews with
HIROSHIMA memory keepers
Succeed to history


Vol.

5
2016.7.11 up
I would like to see what "handing down survivors'experiences" means from the viewpoint of youth.
Nao Fukuoka
An organizer of the "8.6 Talk" linking A-bomb survivors with young people at a café in Hiroshima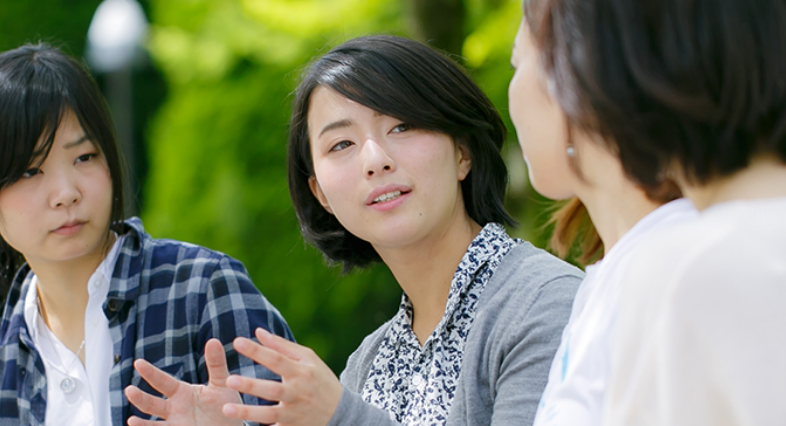 There are people who have committed themselves to passing down the A-bomb experiences to succeeding generations. What do they think of and try to share? Ms. Fukuoka is a member of "Lingua franca," a student group organizing the "8.6 Talk." We asked her why she started this organization and her thoughts.
About the "8.6 Talk"
I heard that you have just graduated from college.

Yes, I am 23 now. I work for an afterschool childcare center as a staff member and also belong to an NPO.
Could you tell us about your project, the "8.6 Talk"?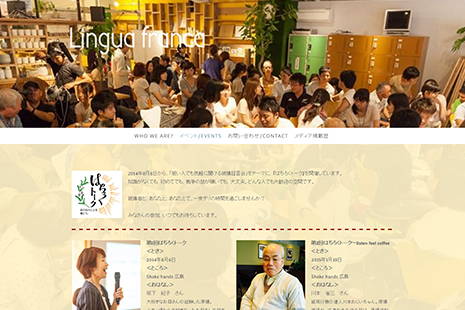 The "8.6 Talk" was organized by "Lingua franca," a student group of Hiroshima to make an opportunity for young people to think about peace in Hiroshima, the international city of peace and culture. It started in 2014, three years ago.
Our main purpose is to give a place where young people can meet A-bomb survivors and think about peace. It is held at a café which has no podium, with the concept of "an event we like to go to."
Survivors'talk events have the image of being formal and hard to join. We are trying to make them more casual so that young people can come easily.
Our members are from various universities in Hiroshima prefecture. We had the "8.6 Talk" event three times, and each time it was full of our members'ideas and sensitivity. They have their own ideas and thoughts, and I am proud of them.
Who participates in the "8.6 Talk"?

They were mainly students, who came to Hiroshima to enter college, but they didn't know how they could start peace activities. Some of them joined the event because their friends asked them to come with them. We also had junior and senior high school students, and young workers. Even a five-year old child came with his mother. Many of them heard the survivors'stories for the first time in the event.
Why did you start this project?

I was asked to organize an event in which young people of Hiroshima could hear survivors'stories. We publicized the event to students, and more than 100 students not only from Hiroshima but also from other prefectures participated. We felt that young people "needed" such opportunities.
Based on my experience at that time, I started the "8.6 Talk," wishing to create a chance for young people to think about peace in Hiroshima.

In the "8.6 Talk," we put emphasis on the communication between survivors and young people, and young people and young people. We also think that it is important for participants to hear the stories and express their opinions casually and openly. That idea came from my own experience in the "Paper Crane Project" sponsored by NGO Peace Boat.
Experience in Peace Boat
What is the "Paper Crane Project"?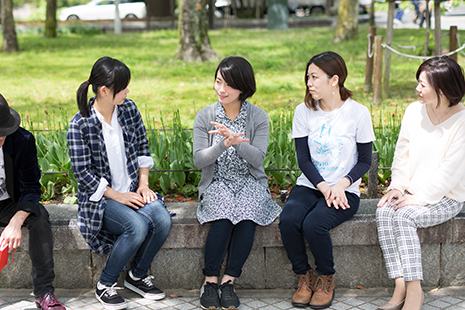 In the project, A-bomb survivors from Hiroshima and Nagasaki, together with young people, visit various places on Peace Boat to convey the messages of the nuclear abolition to the world. The project's purpose is to hand down the survivors'experiences to the next generation and to have young people succeed it.
There were two programs on board. During the three-and-a-half-months'voyage, 800 participants learned about the atomic bombing, nuclear weapons and radiation exposure in workshops on board.
Then in each port in foreign countries, we mixed with local people and exchanged views about the issues of the A-bombing and the present nuclear weapons. Survivors and young people talked from morning to evening to prepare for all the events.
Was the project the reason why you joined Peace Boat?
It was not the direct reason, but one day I received several phone calls inviting me to join Peace Boat. Also, I got an email about Peace Boat from one of my acquaintances who is an A-bomb survivor. I thought it was my fate and decided to board the ship.
Another reason was that traveling together with survivors, I wanted to see what handing down survivors'experience means from the young people's viewpoint. I am a third generation A-bomb survivor. In Hiroshima, you can often hear the phrase, "handing down the A-bomb experience to the next generation." I have heard survivors'stories because I am interested in them. However, I am often asked, "Do you hear the stories because you are the third generation?" And the media has reported that I am interested in the stories because of my background.
I never heard my grandfather's story and was conscious of myself as the third generation. I didn't want to be lumped in the third generation. I also avoided "peace activities."
Before joining Peace Boat, the word "handing down the A-bomb experience" was vague and uncomfortable to me. I thought that making plans for the "Paper Crane project" and spending a certain time with survivors would give me some hints, and so I joined Peace Boat.
Did you get any hints while you were on board?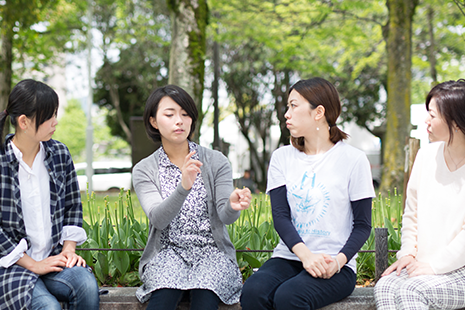 Through my experience on Peace Boat, I learned what points we have to be careful about when we plan a new project. While there are some parts in survivors' stories which people can easily understand, there are other sensitive parts that we have to be careful about when we talk.
I noticed that if we talk one-sidedly, it would be difficult to transmit our messages. We need to talk in such a way so that listeners would experience the stories vicariously.
When we talked in foreign countries, we prepared scripts to avoid the situation in which we were not able to convey our messages correctly by speaking extemporaneously. If we have scripts, we can prevent mistakes in translation and prepare the speech suitable for listeners'nationalities. For example, if we say, "We had such a horrible experience," in some Asian countries, they would not listen to us. In Europe, we tried a different approach so that people would think about the A-bombing vicariously which happened in a far-away place. Together with survivors, we had discussions about how we could have people understand survivors'stories in nuclear nations.
The phrase "peace activities" makes us feel the threshold is too high. "Handing down the survivors'experiences" doesn't mean just talking about them. I felt that something productive could happen only when communications occur between the people who try to convey their messages and the ones who receive them. After I came back, I started the "8.6 Talk" which included all these ideas, along with other students who supported them.
Thoughts to the future
What feedback did you get from the participants?

We always ask them to write a thank-you letter to survivors after the event. In their letters, they said the event gave them a chance to think about what happened under the mushroom cloud on August 6, 1945. Some of them, although not many, wrote that they found that more people thought about peace than they had expected, and they got power and courage as they could talk with other participants about peace frankly.
After the "8.6 Talk," some of them joined the lantern-floating event together, and others contacted me, saying that they would like to hear more survivors'stories. I can sense a good response from the participants, and I am proud that the event encouraged them to think about peace and other issues.
What would you like the "8.6Talk" to be in the future?

I have mainly organized this project. Now, I hope some other students will take over and continue it as a meeting place for survivors and young people. This kind of event usually has serious antiwar and antinuclear themes, but I hope this group will continue to value listening to survivors and communicating with them. I would like them to continue to focus on meeting with people and having sincere conversations.
Interviewed on July 2016.
About
"Interviews with HIROSHIMA memory keepers" is a part of project that Hiroshima「」– 3rd Generation Exhibition: Succeeding to History
We have recorded interviews with A-bomb survivors, A-bomb Legacy Successors, and peace volunteers since 2015.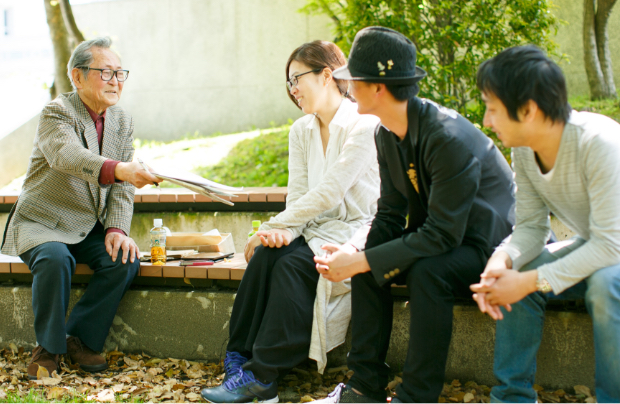 What are Hiroshima memory keepers feeling now, and what are they trying to pass on?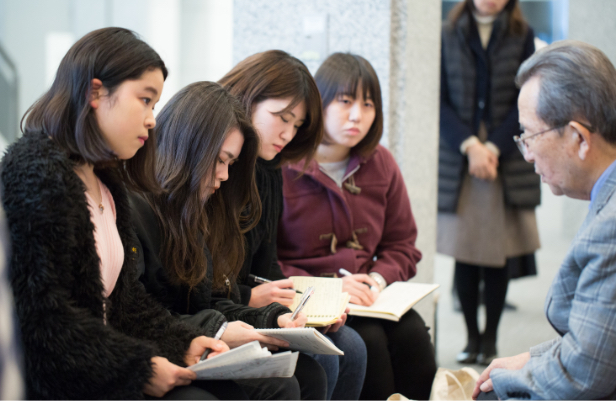 What can we learn from the bombing of Hiroshima? What messages can we convey to the next generation? Please share your ideas.