Interviews with
HIROSHIMA memory keepers
Succeed to history


Vol.

16
2021.2.5 up
It is important to know the fact that two Malayans were killed by the A-bomb in Hiroshima.
Nurhaizal Azam
Associate Professor/Hiroshima City University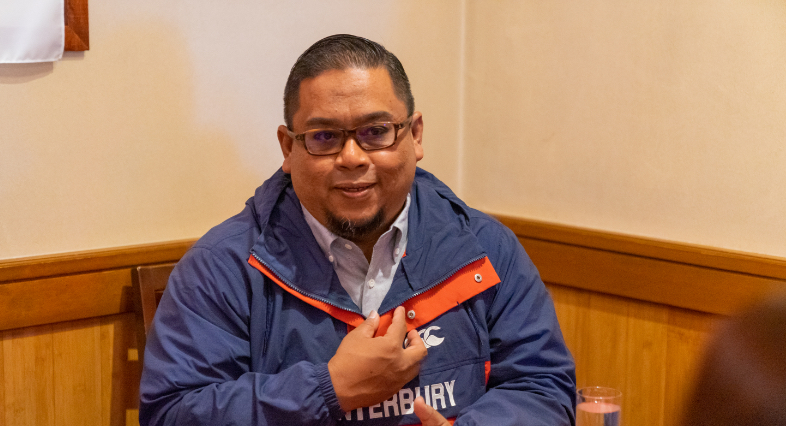 What do people handing down the experience of A-bombing think and try to convey?
Nurhaizal Azam, 47, did research on foreign students who had come from Malaya, the present Malaysia, and were killed by the A-bomb in Hiroshima. He found their bereaved families and had those students' photos registered in the Hiroshima National Peace Memorial Hall of Atomic Bomb Victims. He has worked to let Japanese and Malaysian people know more about Japanese government scholarship students who came from Southeast Asia during the Pacific war. We listened to his thoughts.
Mr. Azam came to Japan as a student
Please tell us about yourself.
I am Nurhaizal Azam, 47, from Malaysia.
I took a Japanese language course in Malaysia and studied for two years at the Universiti Malaya.
After graduating, I studied at Toyama University in Japan. Since 2017, I have been teaching in the International Studies Department of Hiroshima City University as an associate professor.
Tell us what Malaysia is like.
It is hot, but people are cheerful, always smiling. They are friendly and can make friends with anyone. It is a multiracial nation with the majority Malay, Chinese, and Indian.
Malaysia was colonized by Portugal in 1511, then Holland, England, Japan and England again after the Pacific war.
So colonial rule continued for 400 years and British rule was the longest.
The mother tongue is Malay, but English is generally spoken.
Most people speak two or three languages. People are enthusiastic about English education.
What made you come to Japan?
I came to Japan as the tenth generation of the "Look East Policy," a study abroad program sponsored by the Malaysian government in 1981.
When the policy was introduced, Abdul Razak was involved in designing the Look East Policy program.
He was one of the survivors of the Hiroshima A-bombing.
When the A-bomb was dropped, three Malaysians were in Hiroshima. Razak was the only person who could live and go back to his country.
*Look East Policy The "Look East Policy" was proposed by the previous prime minister, Dr. Mahathir Mohammed, in 1981. It is based on the idea that the success and development of Japan and Korea came from a good work ethic, strong will to work and study, morality, management ability and so on. Malaysia tried to learn these qualities and use them to develop its economy and establish the basis of its industries. https://www.my.emb-japan.go.jp/Japanese/JIS/LEP/top.html#:~:text= The "Look East Policy" was proposed by the previous prime minister, Dr. Mahathir Mohammed, in 1981.
We didn't know that a Malayan student who was A-bombed in Hiroshima was engaged in the study abroad program connecting Malaysia and Japan.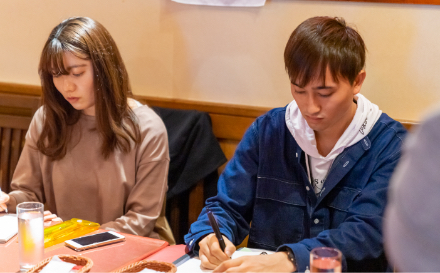 The students who I have conducted research on came here from Malaya.
I feel very close to them because their situation is similar to mine.
I saw snow for the first time in Japan. I was so impressed because people in hot countries really want to see it.

I found the phrase, "I was moved by the snow," in a note written by Malaysian students. I thought everyone living in Southeast Asia feels the same way.
Why he started to do research on those students
Before you came to Japan, did you know about the A-bombing in Hiroshima?
Yes, I did. Everyone in Malaysia knows about it.
But I knew it just as facts. I didn't have much interest in it.
Many Malaysians don't know what the A-bombed places are like now, and they are still afraid.
When I started to work in Hiroshima, some people were worried, saying, "Will you be all right? Doesn't radiation still remain there?"
When did you start to have an interest in the Hiroshima atomic bomb?
When I visited Hiroshima for the first time in 1995, I was shocked by the exhibits in the Hiroshima Peace Memorial Museum, and I remember buying a sticker "NO MORE HIROSHIMAS!"
I put the sticker on my father's car in Malaysia, and it was there until the car was scrapped.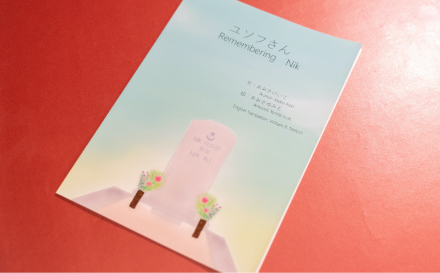 What made you start to do research on the students from Malaya?
When I started to work at Hiroshima City University as an associate professor in 2017, I learned on the Internet that the tomb of Nik Yusof, a Malayan student, is in Saeki-ku, Hiroshima.
Every year, a memorial service has been held on August 6 at Nik Yusof's tomb by Hiroshima University, where he was studying. I happened to live in Saeki-ku at that time. The tomb seemed so close to my place that I wanted to pay a visit to it as a Malaysian. But I could not find the temple.
In 2020, I learned through the Malaysian group LINE that the memorial service would be held even during the Coronavirus pandemic.
Although I was not a student of the university, I wanted to attend the service. Attending that service made me start to study about the Malaysian students in Hiroshima.
Trying to have the photos of Malayan student victims registered
You said Yusof's memorial service made you start to study about the Malayan student victims. Tell us more.

I was impressed that Japanese people warmly held the memorial service for him. I was surprised that it was much bigger and better than I had imagined.
Many people, including Malaysians and Japanese, attended it. I found some Japanese there who had also helped me.
I thought, "Malaysians don't know about the service or the fact that Malayan students died because of the A-bombing. I have to do something." Traditionally, Malaysians hand history down by word of mouth, not by writing.
I thought it was my mission to research and publicize the fact about these Malay students.
Many Japanese don't know about the students who came from Malaya, either.

Right. I have heard some A-bomb experiences in Hiroshima, but most are Japanese ones.
I want many people to learn that Japan had international exchanges in the past and some foreign people lived here at that time.
What did you do after you attended the Yusof's memorial service?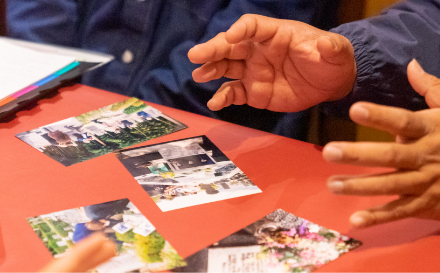 I met Yukio Hayakawa at the memorial service, who gave me information that
another memorial service for Syed Omar, also a Malayan student, would be held on September 3 in Kyoto and I attended it, too.
At the temple in Kyoto, he was buried in the ground, not being cremated because they respected the fact that he was a Muslim.
As a Muslim and a Malaysian, I was moved by the Japanese consideration.
After I came back to Hiroshima,
I posted Yusof's story in Malay on YouTube. I was connected with his family on SNS and suggested that they register his portrait in the Hiroshima National Peace Memorial Hall of Atomic Bomb Victims.
Tell us about the meaning and importance of registering the portraits.

If victims' portraits are not registered, their names will not be put on the A-bomb victims' list.
It is meaningful to leave the fact of history that there were three Malayans in Hiroshima on the day of the A-bombing.
Only blood relatives can register victims' portraits. I was connected with Yusof's relatives by SNS, and one month after I attended his memorial service, his portrait was registered.
I will try hard to have Omar's portrait registered, too.
I'd like to build bridges between Japan and Malaysia
What would you like to do now?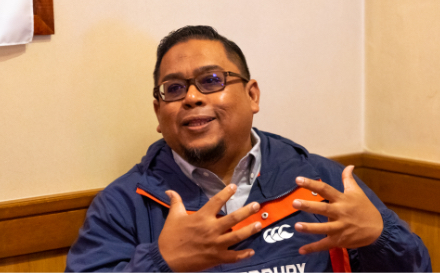 I would like to do something to build bridges between Japan and Malaysia.
First, I will translate the book written by Yukio Hayakawa into Malay, 「オマールさんを訪ねる旅ー広島にいたマレーシアの王子様」 and publish it in Malaysia.
Students who died in the A-bombing were not only from Malaya, but from other countries.
As I have a list of students from other Southeast Asian countries, I want all their portraits to be registered.
In Japan, I would like to make tours for foreign people to learn about students from Southeast Asia during WWII, which include the route to visit those students' tombs both in Hiroshima and Kyoto, and the one to visit the Hiroshima Peace Memorial Museum and Yusof's tomb.
I would like foreign tourists to Japan not only to enjoy it, but to think about peace.
Last,
I would like to do more research on international students in Japan during WWII together with Malaysian college students. Malaysians are not so interested in activities for peace, because Malaysia has not experienced war for a long time.
How can I tell the devastation of war in such a country?
I would like to let younger people have more interest in making peace while they are taking in sightseeing pleasures in Hiroshima.
Thank you very much. Could you give a message to the younger generation?

It is important to recognize and respect each other's stances and values, to find something in common and make a society where we can accept each other. We should accept diversity.
We can be more constructive by finding something in common, not by looking for something different.
I think diversity is the means, not the goal. If we set diversity as the goal, we will stop there.
Diversity changes a society where businesses will be more active and various ideas will come out. It is difficult to put different opinions and values together, so how we can manage to do it is important.
In a society where majority and minority are mingled, we need to respect others.
Exchange and respect are the key. As to volunteer activities, we need to act based on what we should do, not what we can do.
We have to think what the society and the world needs; that is, what the country, the region and the people really need. We also need to ask the people in those places.
Finding common values would help make the diversified society we want.
Interviewed on October 2020.
About
"Interviews with HIROSHIMA memory keepers" is a part of project that Hiroshima「」– 3rd Generation Exhibition: Succeeding to History
We have recorded interviews with A-bomb survivors, A-bomb Legacy Successors, and peace volunteers since 2015.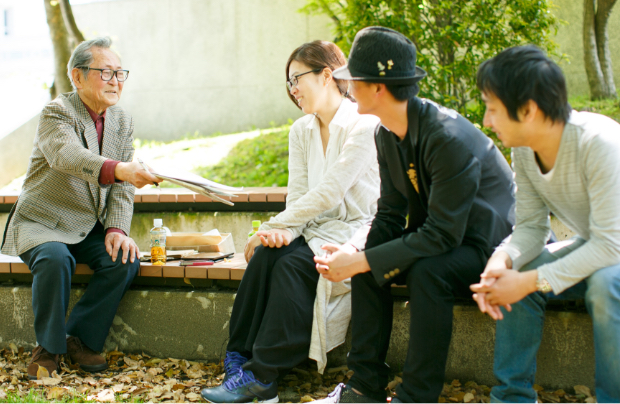 What are Hiroshima memory keepers feeling now, and what are they trying to pass on?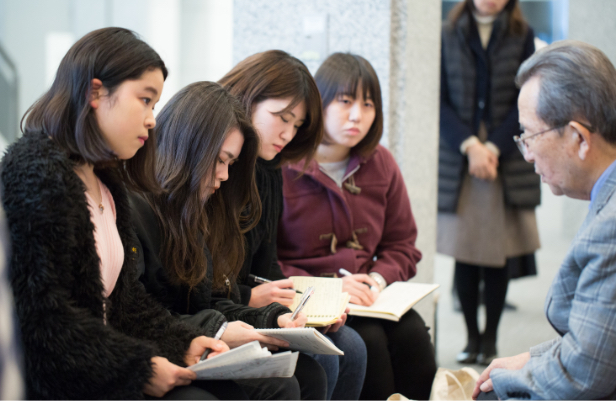 What can we learn from the bombing of Hiroshima? What messages can we convey to the next generation? Please share your ideas.