Interviews with
HIROSHIMA memory keepers
Succeed to history


Vol.

18
2023.1.18 up
We have to relay their thoughts. We must not forget. We must pass their experiences down to the next generation. That is what I feel strongly.
Keiko Aoki
A-bomb legacy successor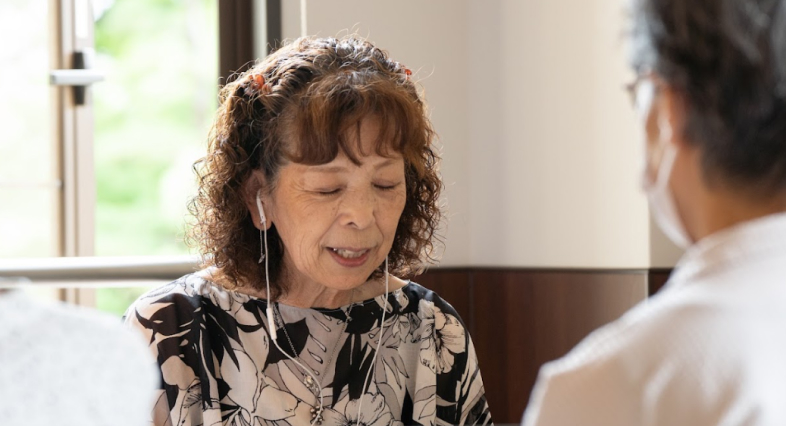 What do people handing down the experience of the A-bombing think and try to convey?
Keiko Aoki, 69, is a peace volunteer, explaining the displays in the Peace Memorial Museum for more than 20 years and giving tours around the monuments in Peace Memorial Park. She is also a Legacy Successor.
We asked her how she started her activities and thinks about her activities.
How she started her peace activities
Ms. Aoki, although you are not from Hiroshima, you have been involved in peace activities here in Hiroshima for more than 20 years.
Today, we would like to ask what made you start doing your activities.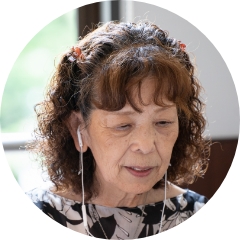 Nice to meet you. Now I live in Hiroshima, but I am not from here.
I was born in Nagasaki and moved to Nagoya when I was two years old.
I went to college in Tokyo and came here to Hiroshima when I got married. I knew that the A-bomb was dropped on Hiroshima, but I didn't know about it very well until I got involved in peace activities. I had never taken the peace education programs which students in Hiroshima usually have.
Why did you start your peace activities?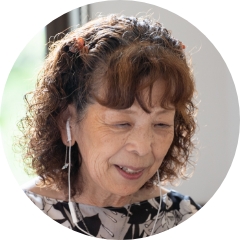 There were two big reasons. One was my son.
Another was a survivor at a knitting class.
First, tell us about your son.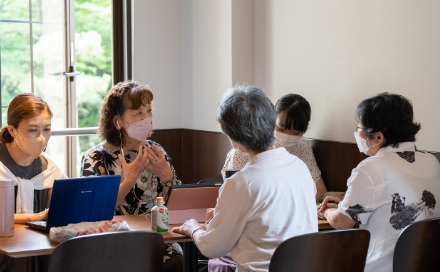 I have two sons.
When my second son was a college student, he brought his friends back to Hiroshima during his first summer vacation.He said, "As they came all the way to Hiroshima, I have to take them to the Peace Memorial Museum."
My son had taken peace education programs since he was in elementary school. He had many chances to listen to survivors' experiences and go to the Peace Memorial Museum. That's why he spoke so spontaneously.
On the other hand, although I had lived in Hiroshima for a long time, I had never thought of showing someone around the Museum.
I did not know much about what happened in Hiroshima and had no interest in it. When I noticed this, I thought I should learn more about it.
Just at that time, volunteers were recruited to show visitors around Peace Memorial Park, so I applied.
Your son's words made you realize that you didn't know much about Hiroshima.
Tell me about your second reason, the survivor in your knitting class.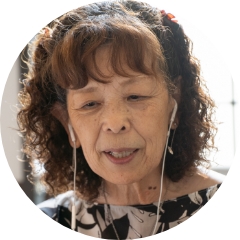 When I was in my 40's, I taught knitting for a while.There was a survivor among my students who was involved in rescue activities as a nurse in Hiroshima. As I didn't know about the A-bombing at all, she told me a lot about it.
What was her most impressive story?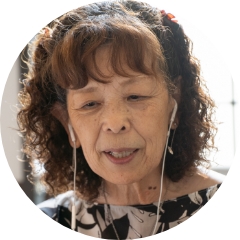 Many stories were impressive.
Mobilized students inhaled poisonous gas which they produced in the factory and she engaged in relief work for them.
Immediately after the A-bombing, she aided survivors, asking a soldier to look after her one-year-old baby.
One military doctor shouted, "Treat people who have a chance to survive first!" while many people lay dying on the floor. A baby was born in a rice field. I was impressed that she had seen a lot of life and death.
I should have listened to her stories more.
Challenges and rewards in her activities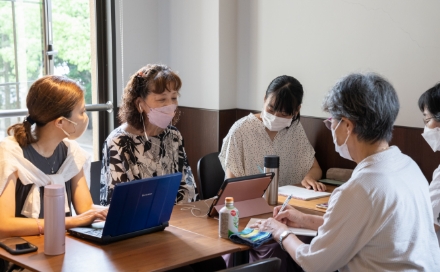 Anyway, you started to engage in the peace activities. Tell me what was challenging to you.
There were many challenging things. First, although it was a small thing, it was hard for me to learn and remember the names of towns, rivers, and so on, because I am not from Hiroshima.
More challenging was when I was told by a survivor to feel their experience vicariously.
I thought and thought how I could understand their experience as my own and what I should do to convey their messages using my own words.
What did you do to understand their experience as your own?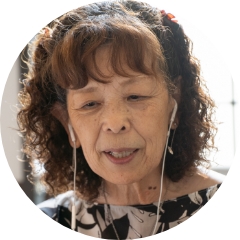 First, I read a lot of books and gained knowledge by listening to survivors' stories.
Knowledge is absolutely necessary. It is difficult to convey messages without knowledge as well as our own feelings.
I started to attend the Peace Memorial Ceremony on August 6.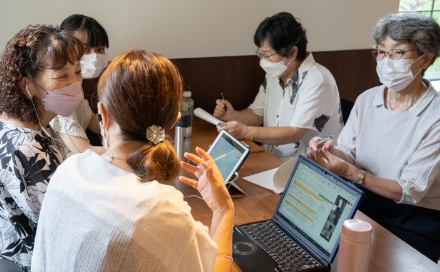 Once, I was near the A-bomb Dome at 8:15 on August 6.
While I was giving a silent prayer, a thought came on to me. What if my children were shouting, "Help!" in the river just in front of me. I had strongly thought the same thing could never happen again, but the A-bombing is not the distant past or other people's problems.
That was the moment I could understand survivors' experiences as my own.
You might be able to convey survivors' messages only when you understand their experience as your own.
Yes, when I started a peace volunteer and Legacy Successor, I could not understand it as my own.
I told what I read and what I heard from others just as I was told.
Now, I ask children on a school trip to Hiroshima to imagine what if it happened to them.
What is the most important thing to do, when you talk about something you have not experienced?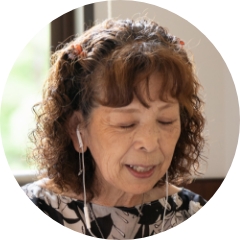 It is important not only to tell my knowledge, but also to convey survivors' thoughts.
Not being a survivor, when I wondered whether I could talk about the survivors' experiences, I happened to see a volunteer guide at the Auschwitz concentration camp on TV, whose words gave me courage.
He was asked, "How can you, who have no experience in the Auschwitz camp, tell others about it?" He answered, "It is not a problem that I have no war experience. In the near future, there will be no people who have that war experience. I have responsibility that the same thing will never happen again. As I am in the generation without war experience, I have the responsibility to learn it, overcome it and pass the history down to the next generation." He spoke as if it was a matter of course.
Listening to him, I felt very positive that I can convey survivors' messages if I want, even if I am not from Hiroshima.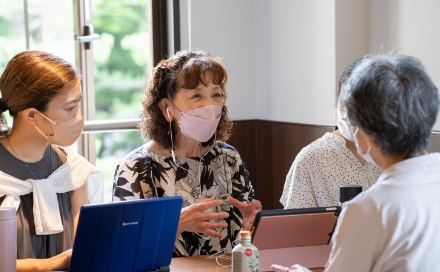 Then, what is rewarding in your activities?
I feel pleased when I see children, who shoulder our future, trying hard to understand what I talked about.
When l finish the tour, some children come to me and ask, "What should we do now?"
I felt like they received more than what I talked. That is the most rewarding.
Her goal as a volunteer
It is often said that the hardest part of peace activities is "persisting." How do you make your time for your activities?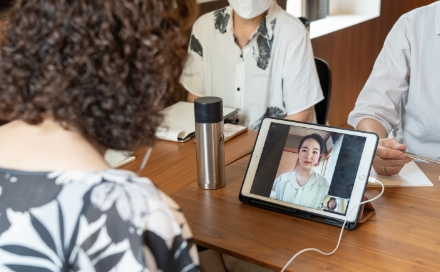 How long you can continue peace activities in your daily life differs from person to person. It depends not only on your physical condition, but also on your mental changes.
In my case, as I have finished the busiest time raising my children and my job, I can have time for my family and myself.
However, I had to stop my activities for two years because I was sick.
I remember when I went back after I recovered, everyone was surprised, saying, "Many people never come back once they stop their activities, but you came back!"
What drove you to go back after two years?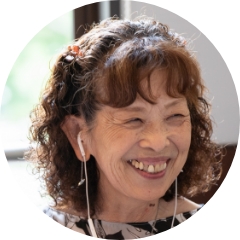 I thought that after I recovered, I would only do what I wanted to do, not reluctantly do something I didn't like.
Conveying the words and experiences of survivors to next generationis what I wanted to do.
Tell us your goal as a peace volunteer and Legacy Successor.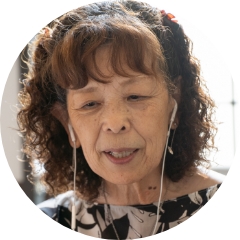 The average age of survivors was 84.53 in 2022.
Survivors who taught me a lot have died one after another for the past few years. We will have fewer chances to listen to them directly.
We have to relay their thoughts.
I would like to convey the messages I received to as many people as possible.
We must not forget. We must pass their experiences down to the next generation.
That is what I feel strongly.
Message to young people
Lastly, tell us your message to young people.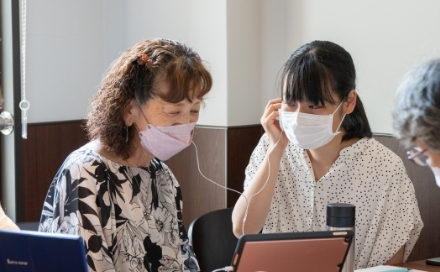 Each survivor has their own A-bomb experience.
The 140,000 people who died because of the A-bombing had 140,000 different stories for their death. We cannot learn each of them.
As a Legacy Successor, I talk about Yoshiko Kajimoto's experience. Nowadays, we have a new program, "Family Legacy Successors."
** Starting in 2022, Hiroshima city has recruited "Family Legacy Successors," who listen to the survivors in their families and talk about them.
I think there are still some survivors who haven't told their stories to the public.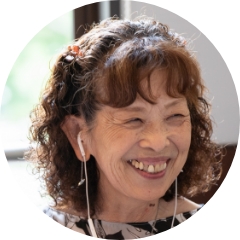 We can convey what we want to in various ways, such as movies, theaters, music, reading, novels, manga and so on.
The more ways we have, the better we can convey their stories.
If you tell survivors' stories in English, you can convey them to people all over the world.
There are various ways for peace activities.
If everyone tries to find their own way of activities, survivors' stories will spread to many people which will be passed down to the next generation.
I am dreaming of a world in which all the people can live with a smile.
Today, I can see many young people for this interview.Talk about what you received today to other people in your own way.
I really hope that everyone, including me, will work hard for peace.
Interviewed on October 2022.
About
"Interviews with HIROSHIMA memory keepers" is a part of project that Hiroshima「」– 3rd Generation Exhibition: Succeeding to History
We have recorded interviews with A-bomb survivors, A-bomb Legacy Successors, and peace volunteers since 2015.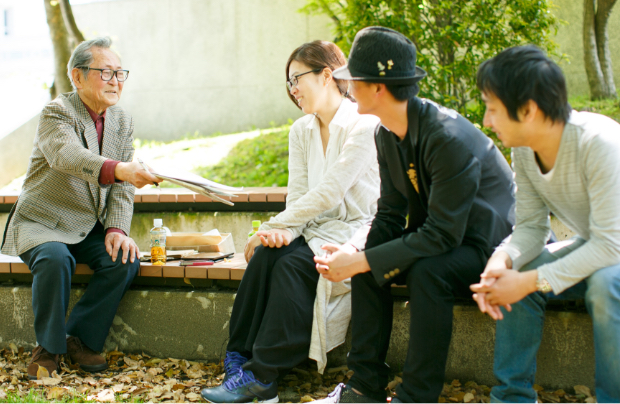 What are Hiroshima memory keepers feeling now, and what are they trying to pass on?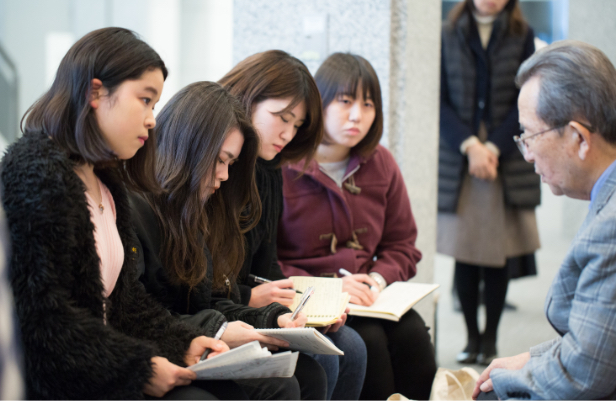 What can we learn from the bombing of Hiroshima? What messages can we convey to the next generation? Please share your ideas.